Agility World Championship – Kristianstad, Sweden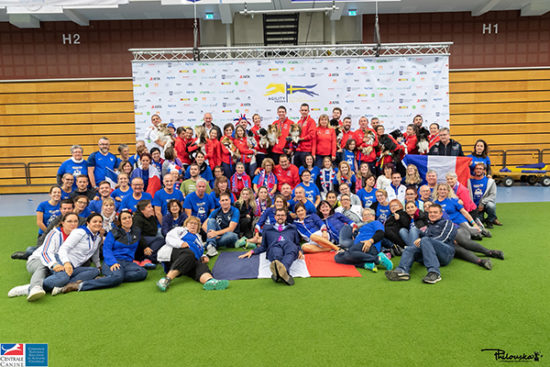 04 au 07 Octobre 2018
Le Championnat du Monde FCI d'Agility 2018 s'est déroulé à Kristianstad, Sweden .
Information :
Pour visualiser les photos , sélectionnez les liens hypertextes en bleu
To view all photos , select the hyperlink in blue. Free download !!!
Register on Flickr it's free

The photos are sort after my work, thank you for your patience.
---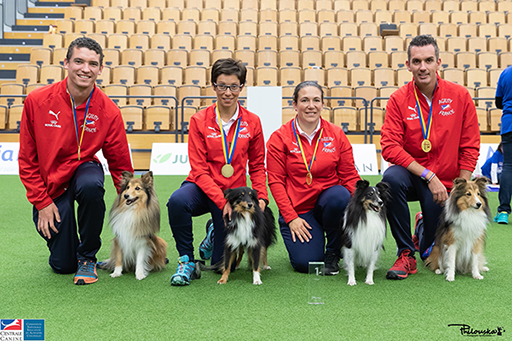 CHAMPION DU MONDE PAR EQUIPE – MEDIUM
Alexandre Caclin & Link – Virgine Bruna & Ice Tea – Maelle Callec & Lummy – Renaud Castelain & Demeter
———————————————————————————
JEUDI
———————————————————————————
Large Team Jumping ( Judge : Andreas Silfverberg)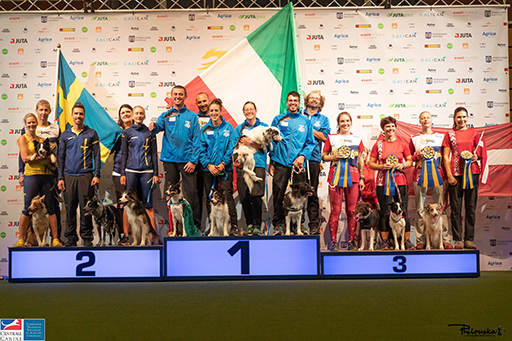 Podium Team Jumping Large 
1er  ITALY
2ème SWEDEN
3ème  LATVIA
Medium Team Jumping  ( Judge :  Nicolas Renaud)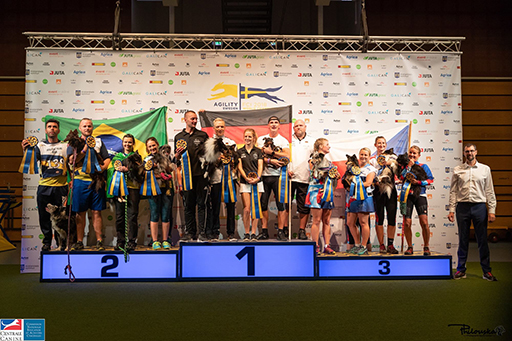 Podium Team Jumping Medium
1er  GERMANY
2ème BRAZIL
3éme CZECH REPUBLIC
Small Team Jumping  ( Judge : Andreas Silfverberg)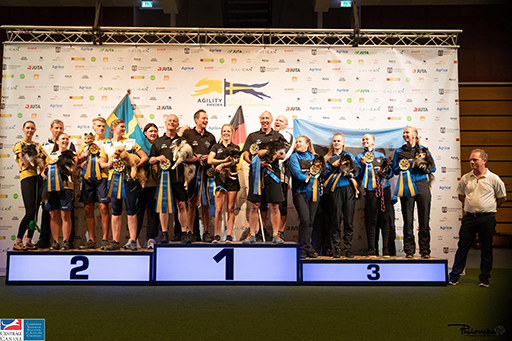 Podium Team Jumping Small
1er GERMANY
2ème SWEDEN
3ème ESTONIA
———————————————————————————
VENDREDI
———————————————————————————
 Large Team Agility ( Judge : Nicolas Renaud, Contacts Magne Alden)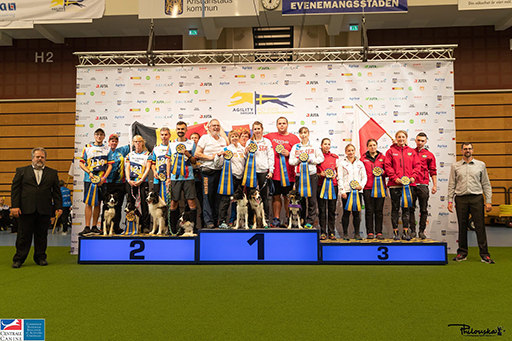 Podium Agility Team Large
1er RUSSIA
2ème BELGIUM
3ème POLAND
Medium Team Agility ( Judge : Andreas Silfverberg; Contacts Tommy Hagström)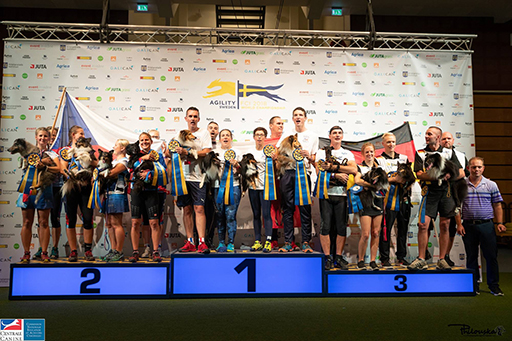 Podium Agility Team Medium
1er FRANCE
2ème CZECH REPUBLIC
3ème GERMANY
Small Team Agility ( Judge :Nicolas Renaud, Contacts Magne Alden)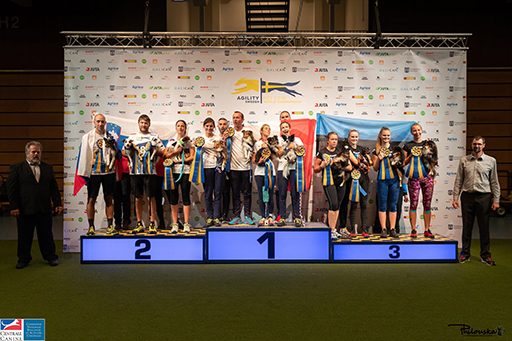 Podium Agility Team Small
1er FRANCE
2éme SLOVENIA
3éme ESTONIA
———————————————————————————
SAMEDI
———————————————————————————
Samedi :
Small Individual Jumping ( Judge : Nicolas Renaud)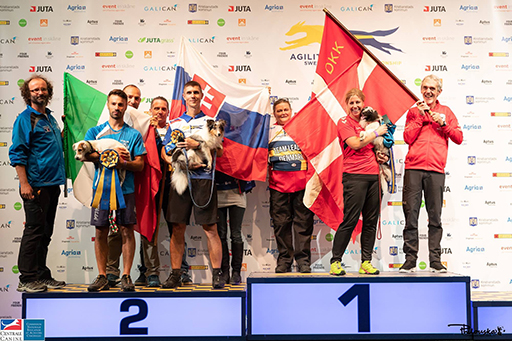 Podium Jumping Individual Small
1er Natasha Gjerulff & Moviestar – Denmark
2ème  ex-aequo :
Alberto Marmo & Dhitta – Italy
Pavol Vakonik & Meryl – Slovakia
Medium Individual Jumping ( Judge :  Andreas Silfverberg)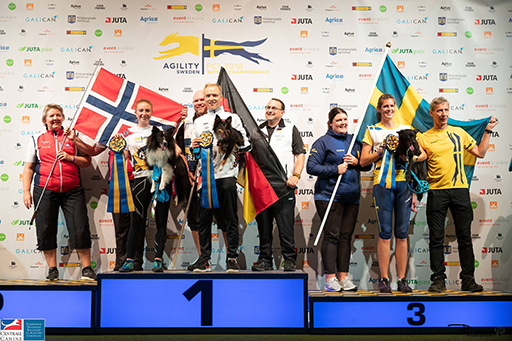 Podium Jumping Individual Medium
1er ex-aequo :
Silas Boogk & Beam – Germany
Ina Himle & Wii – Norway
3éme Anne Karlsson & Bonnie – Sweden
Large Individual Jumping ( Judge : Nicolas Renaud)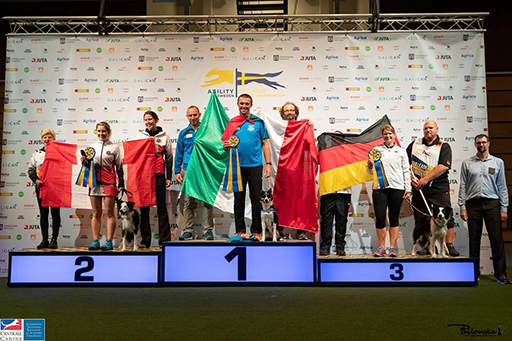 Podium Jumping Individual Large
1er Nicola Giraudi & Eira – Italy
2ème Jessica Patterson & Lux – Canada
3ème Anne Lenz & Itzi Bitzi – Germany
 Equipe de France chez les Fanatics
———————————————————————————
DIMANCHE
———————————————————————————
Dimanche :
Small Individual Agility  ( Judge : Andreas Silfverberg, Contacts Tommy Hagström)
Podium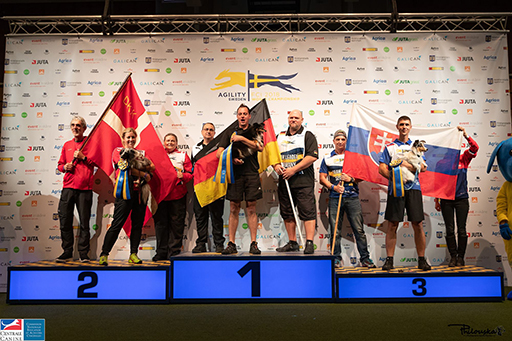 Podium Agility Individual Small
1er Tobias Wüst & Doerte – Germany
2ème Natasha Gjerulff & Moviestar – Denmark
3ème Pavol Vakonic & Meryl – Slovakia
Medium Individual Agility ( Judge : Nicolas Renaud, Contacts Magne Alden)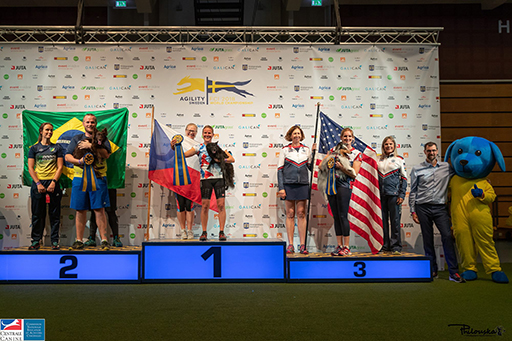 Podium Agility Individual Medium
1er Martina Magnoli Klimesova & Kiki – Czech Republic
2ème Felipe Minet & Corah – Brazil
3ème  Jennifer Crank & Swift – USA
Large Individual Agility ( Judge : Andreas Silfverberg, Contacts Tommy Hagström)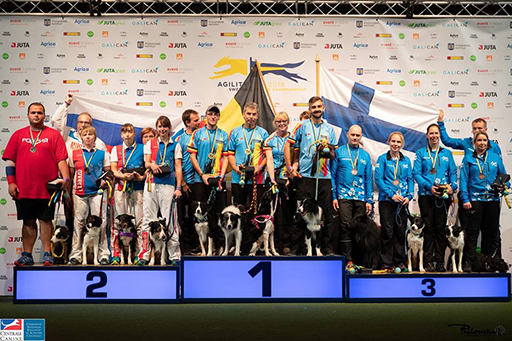 Podium Team Large
1er Belgium
2ème Russia
3ème  Finland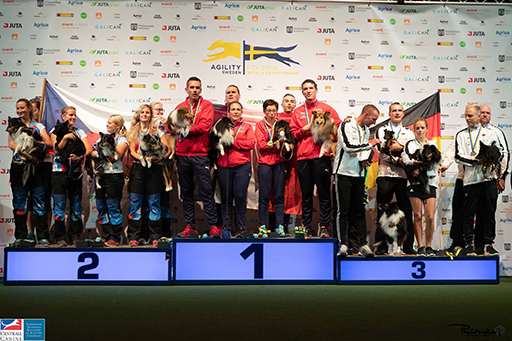 Podium Team Medium
1er France
2ème Czech Republic
3ème Germany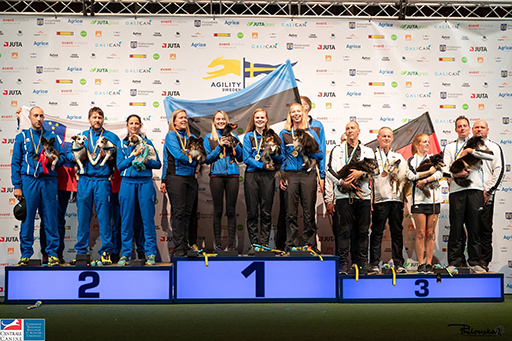 Podium Team Small
1er Estonia
2éme Slovenia
3ème Germany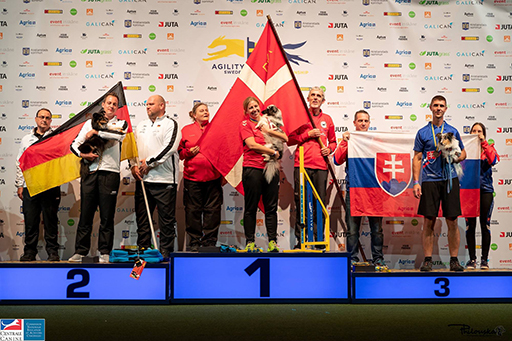 Podium Individual Small
1er Natasha Gjerulff & Moviestar (Denmark)
2éme Tobias Wüst & Doerte (Germany)
3éme Pavol Vakonic & Mery (Slovakia)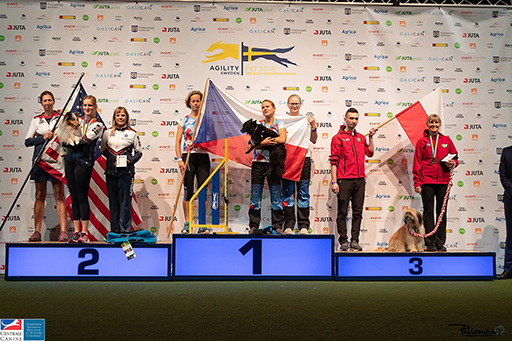 Podium Individual Medium
1er Martina Magnoli Klimesova – Kiki (Czech Republic)
2éme Jennifer Crank & Swift (USA)
3éme Magdalena Domanska & Mora (Poland)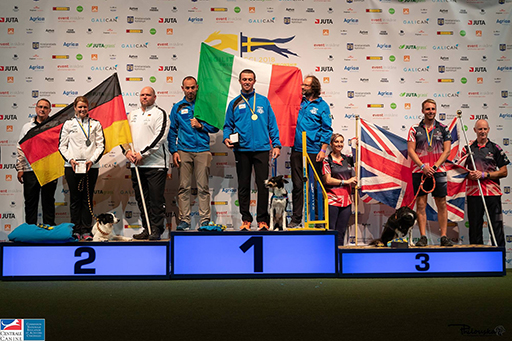 Podium Individual Large
1er  Nicola Giraudi & Eira (Italy)
2éme Anne Lenz & Itzi Bitzi (Germany)
3émeDave Munnings & Fame (Great Britain)